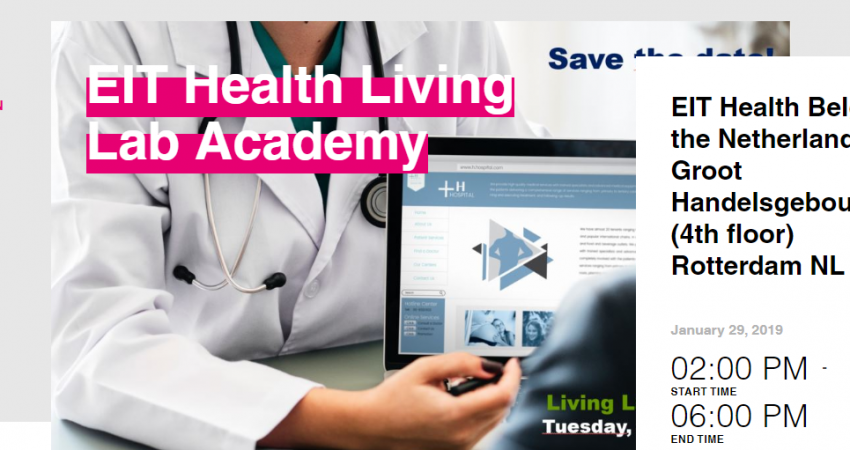 29 January 2019
2:00 pm to 6:00 pm
Groothandelsgebouw
Join the EIT Health Living Lab Academy to 'get a grip on the value of your innovation'. Experts will discuss the role of pilot testing, clinical evidence and (early) health technology assessment in health care innovations.
To maximize the chances of technological products and services for (e-)health to become used and paid for, it is recommended that product development and testing is guided by the assessment of clinical evidence, costs and benefits for different stakeholders. Pilot testing and (early) health technology assessment will focus your value proposition, and will reinforce and clarify your investment decisions, reimbursement coding, large-scale implementation of your technology and internationalization strategy.
During this EIT Health Living Lab Academy event, we will show how Living Labs can support in the design and performance of (large-scale) pilot tests, and how (early) health technology assessment can give you the edge to convince payers, health authorities and investors to make your innovation become reality.
With cooperation of Bart Haex (business creation manager at EIT Health BeNe), Jonas Albert (senior researcher Digital Health at iMEC), Ken Redekop (associate professor at Erasmus University Rotterdam), Johan Oosterheert (CEO at MonitAir), Wouter Markus (CCO at Robot Care Systems) and others experts.
---
Evenement Boekingsformulier
Online reserveren voor dit evenement is niet mogelijk via deze site. Klik hierboven voor aanmelding via de site van de organisator.